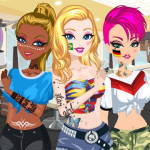 Star Girl update 3.4 is now live! This update introduces the following features to the game: Tattoos: Tattoos are a great way to express yourself and jazz up your Star Girl! Check out this latest fashion feature at the shop!
Status Update: You can now post a Status Update and share it with your friends in-game! Keep updated with each others exploits on and off the ramp!
Revamped Friend List: We've now made it easier for social butterflies to sift through their massive friends list! You can now use the Friend Search function to easily find your friends!
This update is currently live on Android and will be coming soon to iOS. Stay tuned for more updates!
Like Star Girl? Go here for more Star Girl apps!